The Junior Golf Camp at Alta Lake Golf Course is designed to teach junior golfers about golf and physical fitness in a fun-filled, friendly atmosphere that makes learning golf easy and exciting.
We use age-appropriate equipment and proven techniques that challenge your young athlete, yet gives them the chance to experience immediate success.
Sign up for our upcoming golf camps now.
FUNdamentals Camps (4 - 12 year olds)
July 17th-19th
​9:00 am - 12:00 am
FUNdamentals - Summer Camp
Ages 4-12
Schedule
Dates
Monday, July 17, 2017
Tuesday, July 18, 2017
Wednesday, July 19, 2017
Time
9:00 AM - 12:00 AM
Facility
Alta Lake Golf Course
Presented By:
Parker Barth
Heather Neff
Description
It is about having fun and developing a love for the game of golf. We create this enthusiasm through proven programs that make learning golf easy and exciting. This camp uses age-appropriate equipment and exercises that challenge each golfer, yet gives them the chance to experience immediate success. Your young athletes will putt, run, catch, pitch, chip, drive, throw and jump their way to a new level of playing golf.

We incorporate the following concepts during each camp:
Safety – What to do on the golf course and where to stand

Etiquette – How to act while on the golf course

Golf Skills – Grip, Posture, Stance, Basic Swing Motion

FUNdamental Movement Skills – Skipping, Hopping, Shuffling, Object Control
This camp will expose your child to the game in a fun and inspiring atmosphere.

Each athlete will receive a Nike hat

Equipment and snacks are provided, however, feel free to bring your own clubs. Please have your athlete wear athletic clothing and comfortable shoes. Register today by visiting or calling the proshop at 509-923-2359, calling Parker at 509-470-0621 or emailing Parker at pbarth@pga.com and remember, spots are limited!
$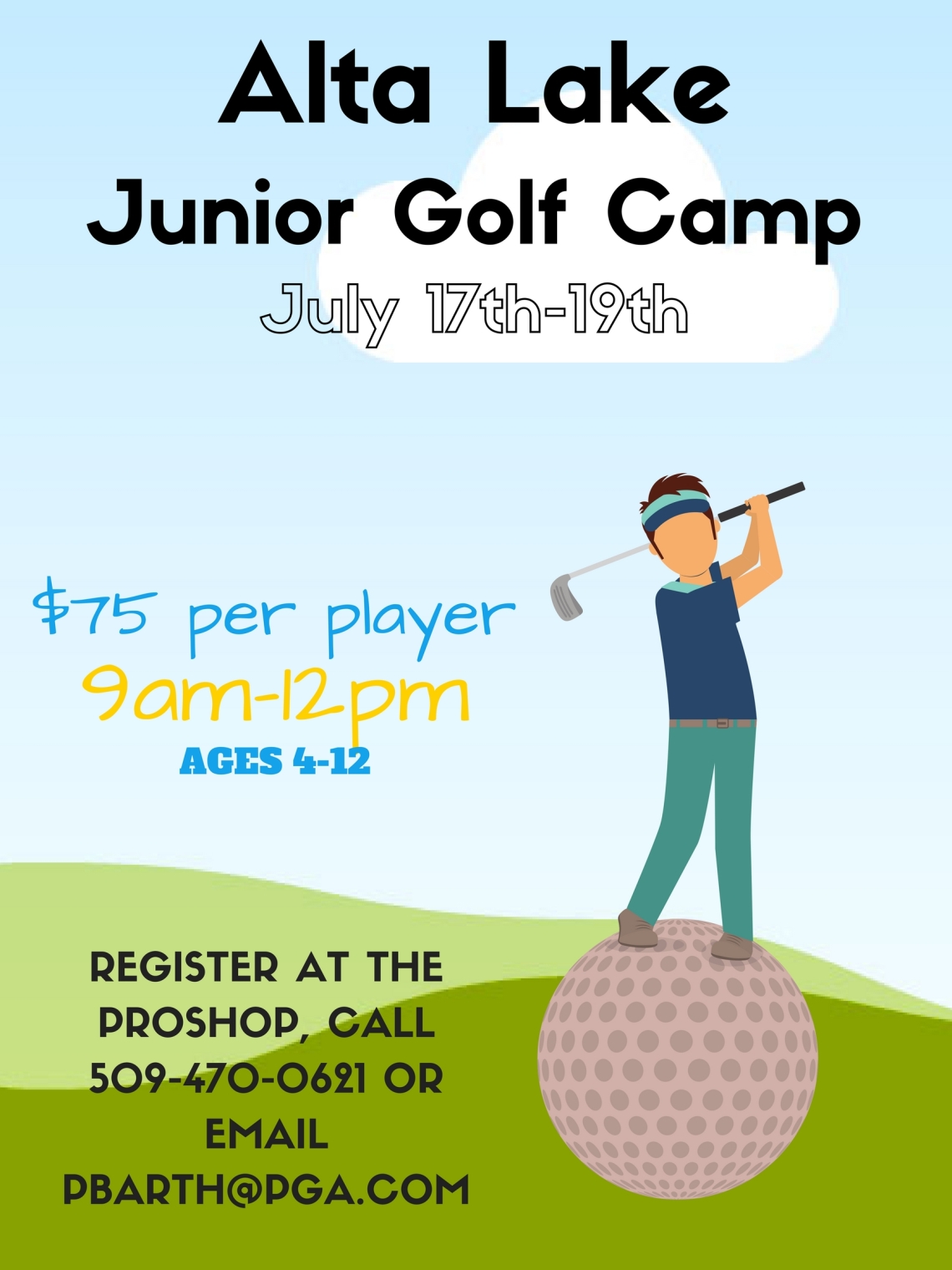 .